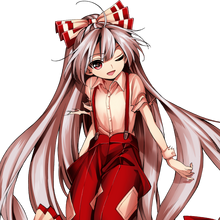 Formerly an ordinary human, Fujiwara no Mokou became an immortal being after drinking the Hourai Elixir roughly 1300 years ago. Now she is unable to die, though she can still feel the pain of injuries as a normal human does.
She is arguably the strongest human in Gensokyo, and her abilities are said to be on par with some of Gensokyo's most elite youkai.
Ad blocker interference detected!
Wikia is a free-to-use site that makes money from advertising. We have a modified experience for viewers using ad blockers

Wikia is not accessible if you've made further modifications. Remove the custom ad blocker rule(s) and the page will load as expected.